01:e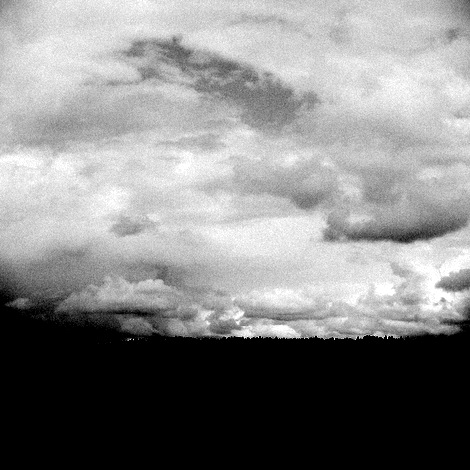 Jag läste delar av "The End of Philosophy" av Martin Heidegger. Att stå vid en avgrund eller se ett vinterstängt nöjesfält. Jag måste, min vilja. –
Viljans transformation. Dagens "vilja" är att göra våld på sig själv för att uppnå ett "fantastiskt" mål. Vi hittar en "vilja till vilja". Heidegger säger att "Därvarons (Dasein; Tillvaro) sanning går här helt förlorad". Och jag förstår honom. Om varje människa ska ha "viljan till vilja" som högsta mål så leder det till en helt ensam jakt på det stoff som kan "berusa" oss till att "vilja Mer". Men det är inte det enda, en annan faktor är att "någon" måste visa ut det som är "vilja till vilja":s högsta mål. Alltså kämpar människan mot ett mål som innehavs av en trendsättande elit. Kanske ingen kommer att nå dit förutom just den (i sin ignorans icke förstående den Förstörelse de gör) elit som skapar elitmåttstocken.
Nej, vänta nu. En elit som visar vägen? Nja. Om vår Vilja till makt är en Vilja till vilja, är det inte Viljan till vilja i sig själv som styr? Dasein vaknar trött på sin säng, pushar sin Vilja till "bra form". Äntligen vill vi Vilja.
Nietzsches oerhört missförstådda Viljan till makt (alltså helt enkelt: ATT HANDLING ÄR VILJA HELT UTAN NÅGON SORT "INRE" DISKREPANS) blir här det passiva inväntan-det av kraft för att Vilja Det Vi Inte Vill. Hm. Kan jag säga klart från mitt hjärta här att: Viljan Till Vilja är en våldtäkt på oss själva(?)?
Hm, nu detta är mina tankar blandande med Heideggers. Ta vad ni vill ha och släng resten. Men om ni tänker slänga allt, så är det ett tecken på att ert sätt att vara korrumperar.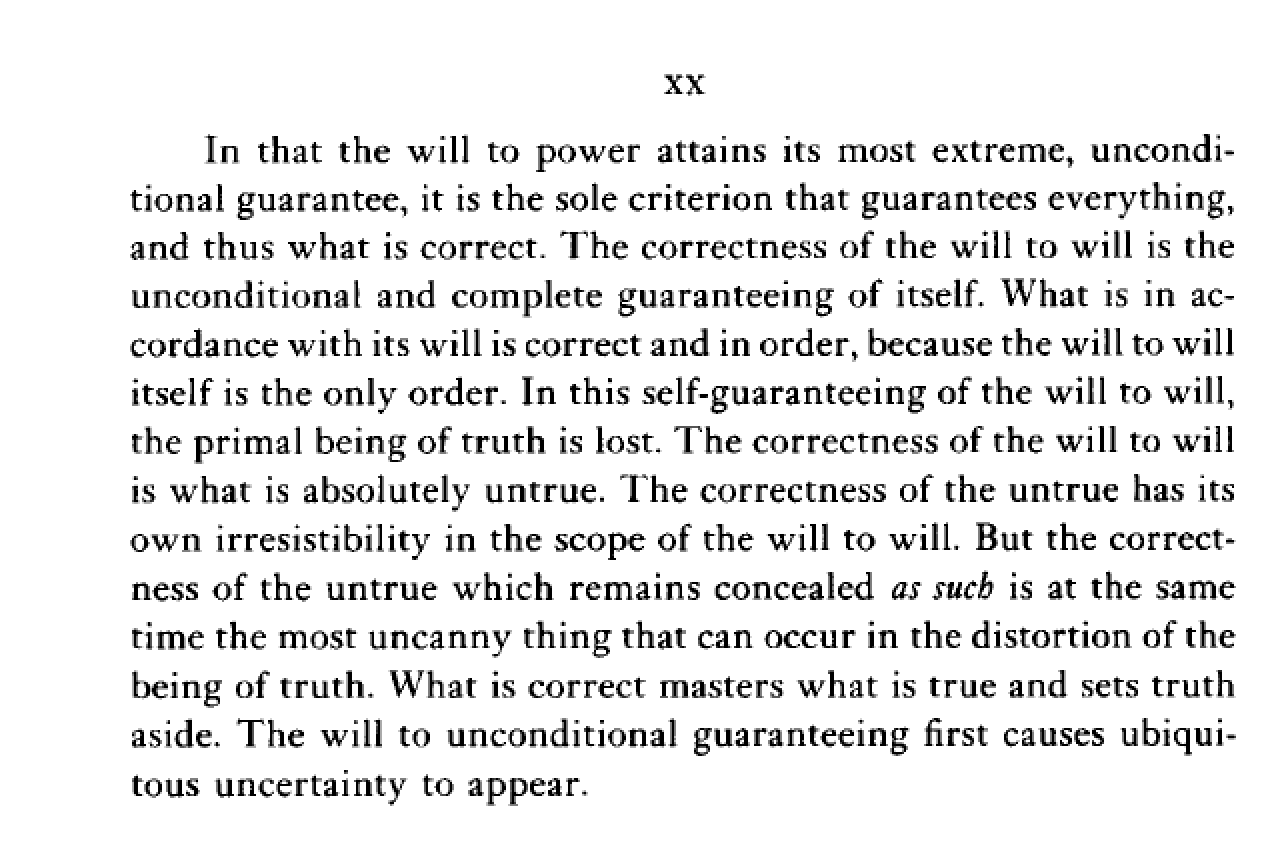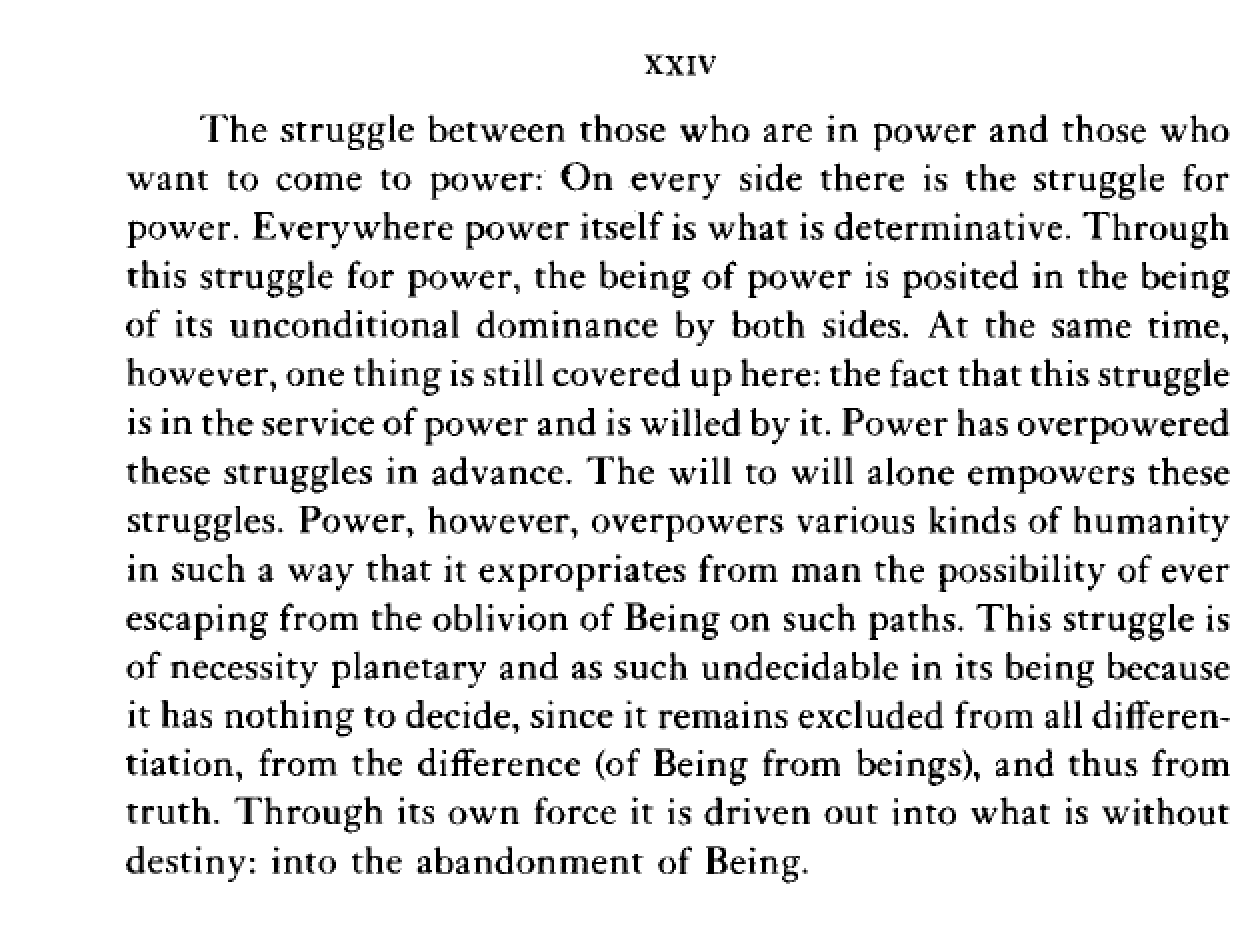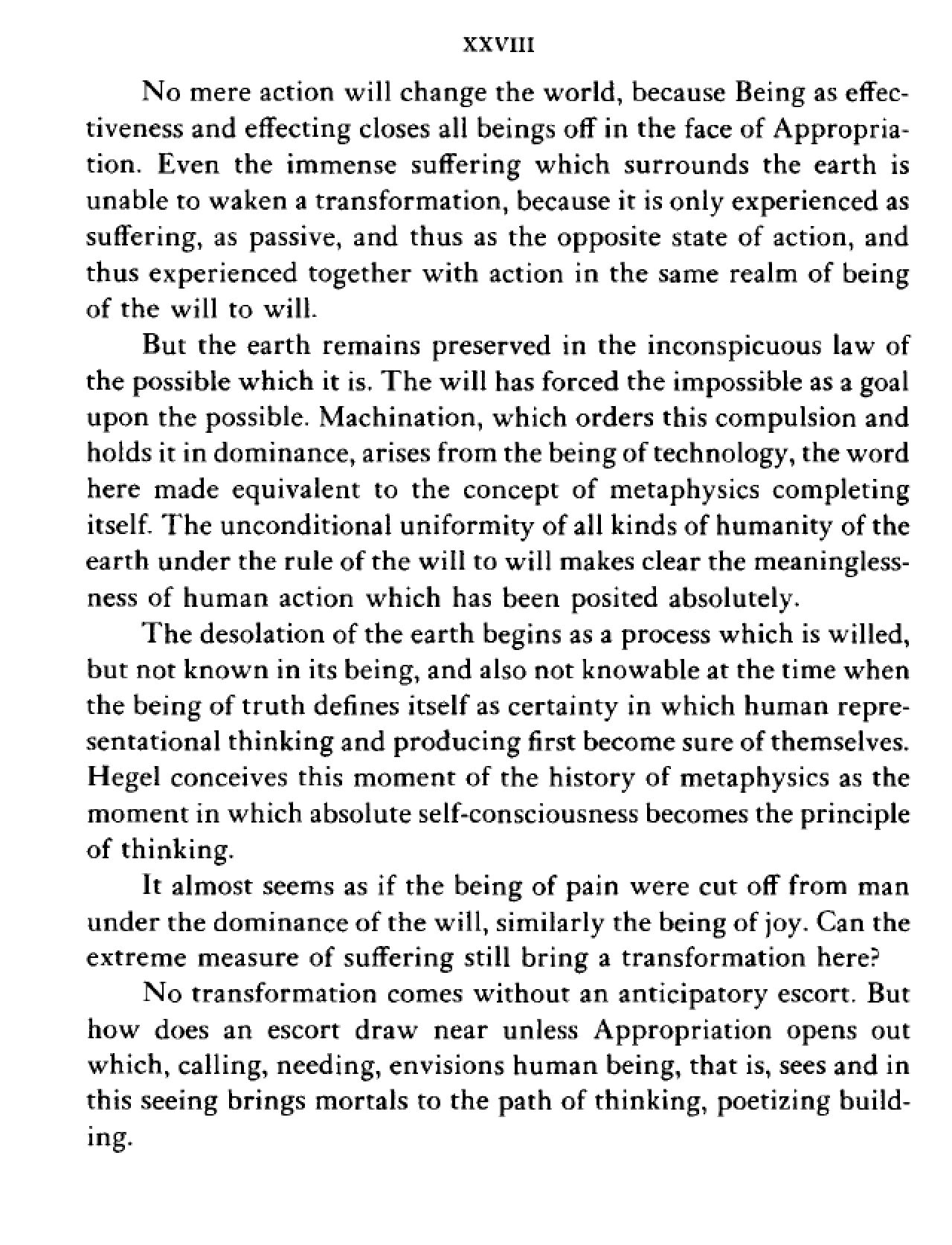 Bilderna med text ovan från "The End of Philosophy".
Ladda ner "The End of Philosophy" som PDF.