18:e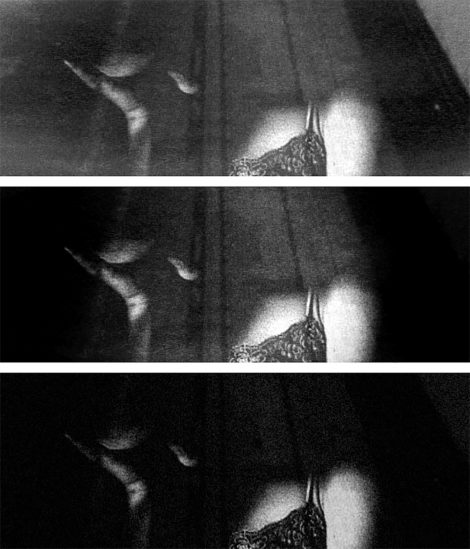 Beauty is unbearable, drives us to despair, offering us for a minute the glimpse of an eternity that we should like to stretch out over the whole of time. / Albert Camus

Förmågan att försvinna i musik, i stämningar, i dimma eller vad som är för ögonblicket genljuder i vad Nietzsche säger: – "att kunna sätta sig ner på ögonblickets tröskel". Men för den som har förlorat denna förmåga? Bara tanken på att få den tillbaka genom vilja är patetisk. Men, denna journal och textsamling går vidare för mig och för de fördömda, de som glömt musiken; – jag arbetar på detta problem med inälvor, synapser och preparat.

***

A change of speed, a change of style.
A change of scene, with no regrets,
A chance to watch, admire the distance,
Still occupied, though you forget.
Different colours, different shades,
Over each mistakes were made.
I took the blame.
Directionless so plain to see,
A loaded gun won't set you free.
So you say.
We'll share a drink and step outside,
An angry voice and one who cried,
'We'll give you everything and more,
The strain's too much, can't take much more.'
I've walked on water, run through fire,
Can't seem to feel it anymore.
It was me, waiting for me,
Hoping for something more,
Me, seeing me this time,
Hoping for something else.

/ Joy Division – New Dawn Fades


Jag önskar verkligen jag inte hade erfarit den.
Igen: "Beauty is unbearable, drives us to despair,
offering us for a minute the glimpse of an eternity…"
Livet utan den är livlöst.
Allt har ett slut,
det har jag fått inpräntat i min skalle sen jag föddes.
Det jag behövde offra för att bli och se,
var det extremt svåra att släppa att det finns något sorts slut.
När tid (alltså något som rör sig mot något) upphör,
lägger är;ets-så-svala-hud och hand på vår axel.
Man blir. Och vem skulle
kunna tro i denna värld, att konstnären –
likt Stalkern som långsamt tar sig in i Zonen,
är den mest nyktra människa som finns.

Henry Miller hör mig:
När jag tänker på att uppgiften, som konstnären underförstått griper sig an med, är att kullkasta rådande värden, att av det kaos som råder omkring henne skapa en ordning som är hennes egen, att utså split och oro så att genom den emotionella befrielsen de som är döda kan återkallas till livet, då ilar jag med glädje till de stora och ofullkomliga, deras förvirring ger mig näring, deras stammande är som gudomlig musik för mina öron.


Om ni tvivlar på mig, på mina val och på det sätt att jag nu kommer att leva – ni har all rätt att göra så. Men, jag kommer tyvärr inte lyssna på er. Jag bestämmer – Jag, id, Dasein.


"Lev farligt!" säger Nietzsche
Men han säger också:
"The most common lies a man tells are to himself."
Och: "Faith: not wanting to know what is true."



Diskrepans. Enten – Eller.
Demokratin fanns kvar i Kurtz. Därför kunde han aldrig bli ett med djungeln/skogen.



Men det är ingen djungel jag söker. (Nära på, men inte.)
Det är Zonen, den Nyktra Konstnärens blick i musik, bild och ord. Sten efter sten. Mellan 0 och 1. Förlösning. De sista ordet måste vara att (vi, du -) jag känner hopp!